2010 Soccerlens Awards
2010 Soccerlens Awards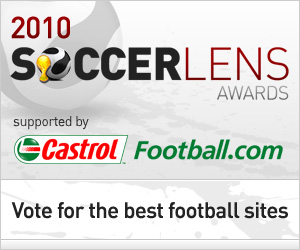 The Soccerlens Awards are all about celebrating the very best in football from around the web from those breaking the news to those making it.
A year is a long time for the web and so we make sure we spend time fine tuning the SLAs to reflect the changes and trends we see out there in the online football world.
This year, less is more. We've cut the categories down from 17 to just 10 of the very best, including some new ones that we're really excited about like the prestigious Best Football Website. For each award we'll still have both Editor's Pick and Reader's Choice as usual, we can't wait to see where we agree to disagree this year!
The Soccerlens Awards:
Best Football Website: The best of the best, no exceptions and no restrictions. The only award where every single football website is eligible for nomination and voting.
Best New Football Website: That outstanding football website who, despite only launching in the past year, has made an instant impact on the online football community. Always a popular category amongst bloggers, the site must have started in 2010.
Most Entertaining Football Website: The drama of football can be too much for the most hardened of us, but those in this category do their part to keep us entertained through the highs and lows of a long season.
Best Football Gear Website: We've broadened the category this year to include all sites devoted to football gear whether they're selling products, writing reviews, or simply drooling over them. If it's devoted to football gear, it belongs in here.
Best Football Videos Website: The Best Football Videos Website award is – as the name suggests – given to the best resource dedicated to football videos, and football videos only. The ultimate time waster.
Best Club Fansite: This award celebrates those websites dedicated to a single club.
Best Football Podcast: The best online 'show' in football – radio or video. More than any other SLA category, the competition for this award gets better and better every year as production values and on-air talent keep improving.
Best Football Blogger: Whether they run the whole show on their own or are an invaluable part of a team, they stand out among all others.
Best Football Journalist: There are some journalists who struggle mightily with the transition to the online world, but we want to give kudos to those who remind us just how powerful quality journalism can be from breaking stories to expert analysis.
Best Niche Website: This award is for those websites who endeavour to stay away from what the masses are doing and give the football world something unique.