2010 Soccerlens Awards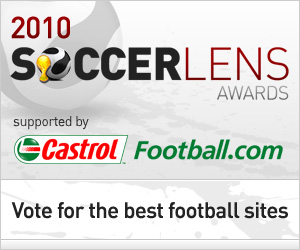 The Soccerlens Awards are all about celebrating the very best in football from around the web from those breaking the news to those making it.
After 3 weeks of campaigning and nearly 38,000 votes cast, we finally have 10 of the very best in football sites and writers as chosen by the voting public. Yes, the 2010 Soccerlens Awards winners have been announced.
We've also interviewed the 2010 nominees to get them to share their own success stories – as well as who they would have voted for.
Check out the winners, read the interviews, and make sure you follow us on Twitter / fan us on Facebook to keep track of the latest news and updates, leading up to 2011 Soccerlens Awards and a special announcement in January!
Soccerlens Awards Blog
The 2010 Soccerlens Awards winners were announced yesterday, as decided exclusively through fan voting. There were some surprises, some expected wins but overall, we're happy to see that the best and most popular websites and writers were crowned the best of 2010. Today we'll look at the Editors' Picks for 2010, which is essentially who…
The wait is finally over. After 3 weeks of furious campaigning, a record 37k+ votes and an unbelievably positive response from fans, voters and nominees, the 2010 Soccerlens Awards winners have been decided. As is customary, the winners are decided exclusively through fan voting, although the SLA team picks the voting shortlist from nominations made…