Best Football Gear Website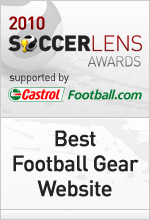 We've broadened the Best Football Gear Website category this year to include all sites devoted to football gear whether they're selling products, writing reviews, or simply drooling over them. If it's devoted to football gear, it belongs in here.
This year's selection features the best football stores, brands and review sites of 2010.
The Nominees
[polldaddy poll="4140594″]
Voting ends on midnight, Sunday 19 December 2010, UK time. Make sure to get your votes in by then, to tell your friends and to vote on all the awards too!
Back To: The 2010 Soccerlens Awards.