Best Football Videos Website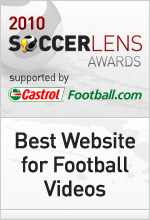 The Best Football Videos Website award is – as the name suggests – given to the best resource dedicated to football videos, and football videos only. The ultimate time waster.
We've limited the nominees for this award to websites (or in one nominee's case, their YouTube channel) are solely dedicated to providing interesting football videos to the fans. Some really good sites which often share the best footy vids (you know who you are) are perhaps unfortunate to miss out here.
What's your #1 source for football videos?
The Nominees
[polldaddy poll="4140613″]
Voting ends on midnight, Sunday 19 December 2010, UK time. Make sure to get your votes in by then, to tell your friends and to vote on all the awards too!
Back To: The 2010 Soccerlens Awards.