Best Football Website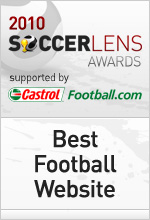 The Best Football Website award will go to the best of the best, no exceptions and no restrictions. The only award where every single football website is eligible for nomination and voting. The SLA's most prestigious award with the most bragging rights.
From the many nominations for this award, we've chosen to shortlist those sites that are realistically the #1 port of call for any football fan in the morning – your first, and primary football fix.
Our final shortlist includes 11 top-notch football news websites – which one is your #1 football site?
The Nominees
[polldaddy poll="4140570″]
Voting ends on midnight, Sunday 19 December 2010, UK time. Make sure to get your votes in by then, to tell your friends and to vote on all the awards too!
Back To: The 2010 Soccerlens Awards.