Best Club Fansite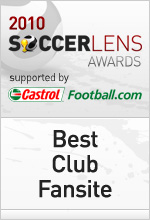 The Best Club Fansite award celebrates those websites dedicated to a single club.
Every year this is, along with the best blogger award, the most fiercely contested category, both in nominations and in voting. This year we made an important distinction between sites that host multiple fan blogs (The Offside, Footbo, Football United and a few others) and the fan blogs themselves. So while The Offside may well be the king of all fan sites thanks to their massive network, we can only look at individual fan sites to ensure that the playing field is level and fair.
Everyone has their favourite team (and their favourite fansite), but out of the ones shortlisted below, who do you think does the best job in catering to their club's fans?
The Nominees
[polldaddy poll="4140621″]
Voting ends on midnight, Sunday 19 December 2010, UK time. Make sure to get your votes in by then, to tell your friends and to vote on all the awards too!
Back To: The 2010 Soccerlens Awards.