Best New Football Website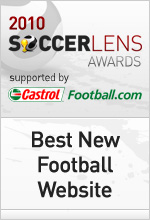 The Best New Football Website award recognises that outstanding performer who, despite only launching in the past year, has made an instant impact on the online football community. Always a popular category amongst bloggers. The site must have started in 2010.
This was a tough category to shortlist, as we had many new sites vying for attention (and some old ones trying to sneak in!). Ultimately we looked at the quality of writing and the potential of sites that could, in the future, challenge the Best Football Site nominees for their spot.
We've whittled the shortlist down to 4 top sites, it's your turn to pick out the best one.
The Nominees
[polldaddy poll="4140434″]
Voting ends on midnight, Sunday 19 December 2010, UK time. Make sure to get your votes in by then, to tell your friends and to vote on all the awards too!
Back To: The 2010 Soccerlens Awards.