Best Football Podcast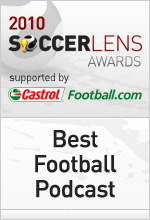 The Best Football Podcast award recognises the best online 'show' in football – radio or video. More than any other SLA category, the competition for this award gets better and better every year as production values and on-air talent keep improving.
If you've ever heard even a single football podcast, chances are that it was one of these guys. Some of the best, most entertaining and insightful football commentary.
The big question – who was the best of 2010?
The Nominees
[polldaddy poll="4140637″]
Voting ends on midnight, Sunday 19 December 2010, UK time. Make sure to get your votes in by then, to tell your friends and to vote on all the awards too!
Back To: The 2010 Soccerlens Awards.