Best Football Blogger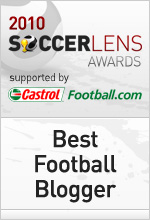 Whether they run the whole show on their own or are an invaluable part of a team, the Best Football Blogger award celebrates the blogger who stands out among all others.
A category that produces the most complaints and bruises the most egos, but football blogging can be a thankless task and only the very best can survive in this business and still produce quality on a regular basis.
Every blogger on this list deserves to win the award for their awesome work in 2010 – who's your pick?
The Nominees
[polldaddy poll="4140746″]
Voting ends on midnight, Sunday 19 December 2010, UK time. Make sure to get your votes in by then, to tell your friends and to vote on all the awards too!
Back To: The 2010 Soccerlens Awards.