Soccerlens nominated for EPL Awards
Soccerlens turned four yesterday and what came to us as a birthday present was the nomination of the site in five categories for the 2009/2010 EPL Awards. The categories are:
Voting opens today (April 20th) and runs until Saturday, May 15th, 2010 (FA Cup final day). Feel free to vote for us, we will not mind at all!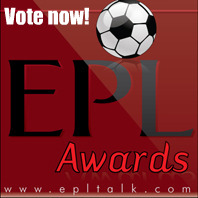 Topics: News