The 2010 Soccerlens Awards Winners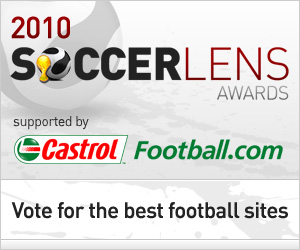 The wait is finally over. After 3 weeks of furious campaigning, a record 37k+ votes and an unbelievably positive response from fans, voters and nominees, the 2010 Soccerlens Awards winners have been decided. As is customary, the winners are decided exclusively through fan voting, although the SLA team picks the voting shortlist from nominations made by fans and readers.
Before we get to the winners, I'd like to thank the people who helped make this year's Awards a success. Thank you fans, thank you voters and thank you nominees for making this year's Soccerlens Awards the best ever. Last but not least, a special thanks to our sponsors Castrol Football and Studs Up Football Club, without whom this year's SLAs wouldn't have been possible.
Without further ado, here are the winners of the 2010 Soccerlens Awards:
Best Football Website: Goal.com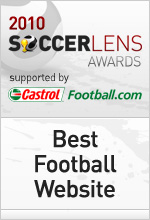 The Best Football Website award considers those websites who would be the #1 source of football news for football fans.
In other words, if there was only one football website you were allowed access to, who would you pick?
Our shortlisted candidates were all websites that aimed to take that #1 spot in the lives of football fans. As the fan voting showed, Goal.com is a deserving winner thanks to their comprehensive worldwide coverage and global fanbase.
Winner: Goal.com
Runner Up: Football365
Read the Goal.com interview.
See voting results on the Best Football Website page.
Best New Football Website: Three and In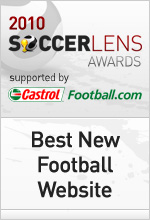 The Best New Football Website award recognises that outstanding performer who, despite only launching in the past year, has made an instant impact on the online football community.
The limitation that the site must have started in 2010 meant that this was always going to have few sites, but as the voting showed, we have two outstanding candidates in Zonal Marking and Three and In. While both of them would have been deserving winners thanks to their different but equally effective blogging styles, in the end it was Three and In who shaded it with a 4% voting margin.
Winner: Three and In
Runner Up: Zonal Marking
Read the Three and In interview.
Read the Zonal Marking Interview.
See voting results on the Best New Football Website page.
Most Entertaining Football Website: Football365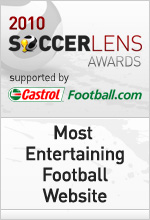 The drama of football can be too much even for the most hardened of us, but those in this category do their part to keep us entertained through the highs and lows of a long season. The Most Entertaining Football Website award merges the best football gossip website and funniest football website awards from previous awards.
The competition in this category was fierce – the winner comes away with only 19% of the overall votes, with their nearest rival at 17%. At the end of the day, Football365 has been an industry standard in entertaining football fans, and while the likes of Kickette, Studs Up and Pies are fantastic in their own domains, the voting shows that they still have some way to go before catching up with the original entertainer.
Winner: Football365
Runner Up: Kickette
See voting results on the Most Entertaining Football Website page.
Best Football Gear Website: Soccer.com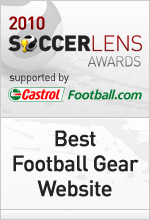 This year the Best Football Gear Website award recognises all quality websites dedicated to gear, whether they sell products or write comprehensive reviews.
More often than not this category is about who has the most satisfied customers / the widest fanbase, and the voting reflects it with football gear stores dominating this category over the years.
This year review sites Footy Boots and Football Shirt Culture put up a spirited challenge but eventually lost by more than a 10% voting margin to the best football gear website of 2010, Soccer.com.
Winner: Soccer.com
Runner Up: Footy Boots
Read the Footy Boots Interview.
See voting results on the Best Football Gear Website page.
Best Football Videos Website: FootyRoom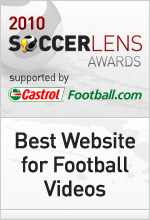 The Best Football Videos Website category celebrates the ultimate time waster – your #1 source for football videos.
Traditionally this category has been dominated by heavyweights like 101 Great Goals and Footy Tube, and this year the two combined to take nearly 45% of the total votes.
However, our eventual winner blew both of them out of the park, gaining nearly 46% of the total votes and firmly establishing themselves as the populist choice for best football videos website of 2010. Congratulations FootyRoom on a well-deserved award.
Winner: Footy Room
Runner Up: 101 Great Goals
Read the FootyRoom interview.
Read the 101 Great Goals Interview.
See voting results on the Best Football Videos Website page.
Best Club Fansite: Arseblog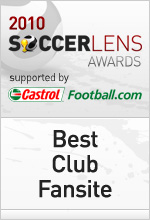 The Best Club Fansite award celebrates those websites dedicated to a single club. It the ultimate populist vote, and this year saw Arsenal, Manchester United, Liverpool and Tottenham fans (amongst others) thrash it out for the title.
With half a season still to go there's no clear winner between Arsenal or Manchester United but in the 2010 Soccerlens Awards, the Gunners are clear winners. Arseblog is, hands down, one of the most popular football websites around and the most popular club fansite around, and they picked up 46% of the overall votes, or over 4000 votes.
Winner: Arseblog
Runner Up: The Republik of Mancunia
See voting results on the Best Club Fansite page.
Best Football Podcast: Guardian Football Weekly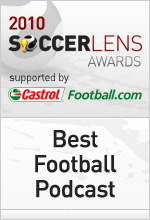 With so many quality football podcasts going around, how do you pick the best one? More than any other SLA category, the competition for this award gets better and better every year as production values and on-air talent keep improving.
However, we're all still playing catch up with the industry giant and undisputed winner of the 2010 Best Football Podcast award, the Guardian's Football Weekly podcast. And until Jimbo retires or Barry decides to pitch his tent somewhere else, we'll struggle to find a comparable or more deserving football podcast.
Winner: Guardian Football Weekly
Runner Up: Football Ramble
Read the Guardian interview (with Sean Ingle).
Read the Football Ramble Interview.
See voting results on the Best Football Podcast page.
Best Football Blogger: Michael Cox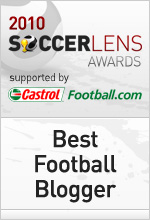 Whether they run the whole show on their own or are an invaluable part of a team, the Best Football Blogger award celebrates the blogger who stands out among all others.
A category that produces the most complaints and bruises the most egos, but football blogging can be a thankless task and only the very best can survive in this business and still produce quality on a regular basis.
Michael Cox of Zonal Marking is a deserving winner of this year's Best Football Blogger award, although as we said at the start of this year's award, every single blogger in this list deserves to win, they've all been excellent throughout the year and there's very little separating them.
Winner: Michael Cox (Zonal Marking)
Runner Up: Brooks Peck (Dirty Tackle)
Read the Zonal Marking interview.
Read the Dirty Tackle Interview.
See voting results on the Best Football Blogger page.
Best Football Journalist: Sid Lowe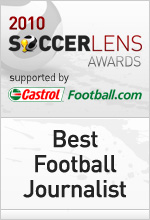 The Best Football Journalist award recognises those journalists who have been consistently outstanding and entertaining during 2010, those who broke news most frequently and those who were able to bridge the gap between traditional journalism and new media successfully
There were many outstanding candidates in this category (including former winners in Ives Galarcep and Jonathan Wilson) and the eventual winner, Sid Lowe, richly deserves this award for his outstanding work in covering Spanish football in 2010.
Winner: Sid Lowe
Runner Up: Jonathon Wilson
Read Sid Lowe interview.
See voting results on the Best Football Journalist page.
Best Niche Website: Fantasy Football Scout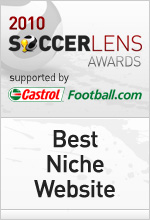 The Best Niche Website award is for those websites who endeavour to stay away from what the masses are doing and give the football world something unique.
Football fans will be spoiled for choice going through this category – with sites like Kickette, FM Scout, European Football Weekends and Swiss Ramble, there is plenty to read, enjoy and celebrate as the best in football blogging. This year's winner, Fantasy Football Scout, reflects not only the sheer popularity of fantasy football but also FFS's ability to dominate a niche hitherto lead by fantasy football game sites.
Winner: Fantasy Football Scout
Runner Up: Kickette
Read the Fantasy Football Scout interview.
See voting results on the Best Football Niche Website page.
---
That's a wrap for the 2010 Soccerlens Awards, it's been a pleasure working on this project for the last 4 years and I'd like to thank everyone once again for making this year's Awards such a fantastic success.
We'll publish our Editors' Picks and a detailed review of this year's awards, as well as share plans for 2011.
Congratulations once again to all the winners and best of luck to everyone else for next year.
Topics: 2010 Soccerlens Awards, News